I've come to a healthy decision, I think, in terms of image. And I am pretty sure that a number of people I know might benefit from the journey and the decision it led to. Because all of us have an image, a way that others perceive and think of us based on what they see of us, whether or not we are deliberate about cultivating it. So, I'm going to lay out the stones that make up this path and see if I can walk you down it and show you my destination. First, some stones…
Stone One… I have always known (growing up on Bowie) that image is an important aspect of an artist. I have often been taught the importance of at least appearing to be a good person, the right person for a job, and that sort of thing. Like everyone, I've benefited from the added enjoyment of an artist whose awesome art is only made more interesting by their cool image. I also understand why, even if I hate it, image matters for non-artists. We humans tell each other not to judge books by their covers…And we can work on that, but judging books by covers is a large part of the history of how we survived. I won't argue it's always a good thing, because it's more complex than that. This stone is more about acknowledging that we live in a world where image is part of the equation and that there are times I've gotten some enjoyment from others' images. Whether or not we like it, we all have images.
Here. Enjoy Bowie's image mastery.
Also, when you're on this side of the microphone or keyboard, there's always someone pushing an image on you or asking if you've taken your image into account. It's part of the business of art, something you have to deal with if you want your art to see the light of day. I do. I want that very much. But that's where my love of authenticity strongly asserts itself. I know that image is important, even if I'd rather not have to spare it a thought. I want to have my music and my words in all of your heads, so I have to at least stop and assess this issue.
Stone Two… The other night, I stayed up way too late talking with a friend as I tried to sort out a small bio. She did the smart thing and looked at what other bios in my peer group for this might look like and suggested changes to help mine mesh better. We sent emails back and forth, replying multiple times to each other before we'd read replies to our replies, explaining why changes were a good idea or felt bad, and finally ended up with the original idea I'd sent her….just the order of a couple sentences switched rather than a massive re-write.
Stone Three… Longer term than that, some essays on women on the autism spectrum and the way that they use mirroring to seem "normal" have had me thinking about the extent to which we all do mirroring as part of fitting into our societies. Because there are plenty of things that indicate that I might be on the spectrum, and because I am a massive fan of authenticity, this all brought up some concern. I spent a bit quietly freaking out, wondering how much of me was really me. (I take self-knowledge and authenticity Very Seriously.)
Stone Four… Two days ago, I stumbled across this essay on the issue of identity and the ideal self in the film Velvet Goldmine. I suspect you can pull out some useful tidbits to bring on our journey even if you've not seen the film, so I'll wait here whilst you go have a read. (Really, it's an important part of how I got to my destination, so it's worth me waiting here all alone whilst you read…)
Identity and the Ideal Self in Todd Haynes' Velvet Goldmine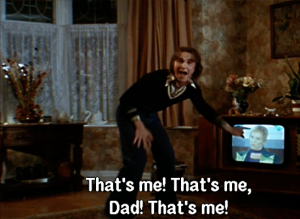 Read it? Okay then….
As most of you know, my passion is making music. I pour everything into my band, and let any leftover drops fall into my efforts at writing poetry and fiction. This means that the dreaded bio is a regular part of my life. If I'm lucky, someone else writes something that is close enough to good and true that I can just sigh and let it be. However, there are still bios that are mine to write. In an age where our art can go well beyond just those who already know us, the bio is part of how we communicate our image.
This is me, standing on Stone One. Admitting this isn't just about tricking someone into giving me an office job or letting me hang out with them. This is about my life's passion. So let's revisit Stone Two.
Day jobs require massive work on my image.
I'd written a short bio that I knew was true to who and how I am, but I also knew there was at least one potential problem. In it, I said something I often say about me, that I'm a scifi girl. I know that at least one of the editors for the project that needed this bio hates when adult females call themselves girls (or that's been my impression of her feeling). I understand her objection (or I think I do) and totally acknowledge the validity of it.
Important note: I want to be very clear that the editor in question is someone I both like and respect. And even if I've misunderstood her reasons, I'm sure that her reasons are reasonable and intelligent. Nothing I write here ought to be seen as a criticism of or attack on her or those who share her opinion (including other friends of mine).
What I think I understand as her issue with adult females referring to themselves as girls is that, so often, women who call themselves girls are doing it in a way that diminishes their power and capability. This is a true and troubling thing. On the other hand, I tend to call everyone girls and boys. In my head, when I refer to myself as a girl, it's because "woman" just sounds so serious and so much more grown up than I tend to be, "lady" either sounds goofy in the wrong way or like the object of the term is better behaved than I tend to be, and most other terms for females are either sterile (like "female") or the sort of word you are best just using in jest (like "broad"). But a girl…she's a female who's not necessarily a grown up, even if she's an adult. She might be serious, but she's just as inclined to silliness. There's a light-heartedness in that that I have had to fight hard to include in myself.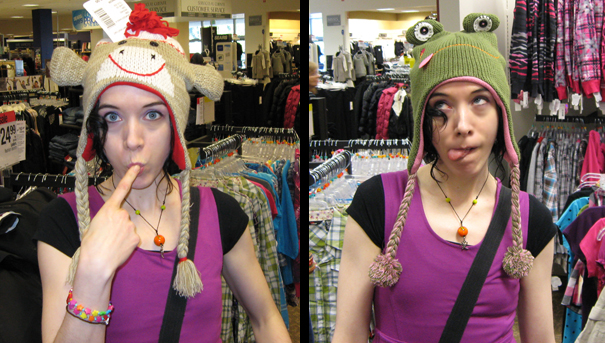 Me. Fighting hard.
(Update 2014-09-22: Just had a great chat with the editor in question and wanted to clarify on her behalf and with her permission. Especially since I totally agree. So, in her own words: My thing re: "girl" for adult women is really just about the UNEXAMINED use. Like automatically referring to "the men" and "the girls" when everyone's an adult. But examined usage and self-identification as a girl, no matter your age, is not a thing I have a problem with! I guess it's mostly a self-identification vs. cultural infantilization things; those are two very difference usages.)
So, there was this bio where I'd called myself a scifi girl…but I didn't want to annoy the awesome editor who'd given my work a chance (and loved it!)….It was a three sentence bio, and every. single. sentence. got analysed to death that night. Why did I feel it was an essential part of describing who I was? Why was expressing it in those words important to me? (Was it important to me?)
And, in case you think it's just that I'm too much a navel-gazer…People who read that bio may very well find it influencing their view of me and of the work it accompanies. This could very well lead to more or fewer readers. It could also very well lead to editors loving me (and giving me more chances) or hating me and not wanting to publish things written by the likes of me. I felt like the weight of my writing career was on that tiny bio. Ugh!
Okay, on to Stone Three. I think that a lot of us spend at least a portion of our lives trying to figure out who we are. And many of us hope that we have figured out who we actually are. Even if we let our choices be influenced by friends and family, we might quietly keep a mental list of what our actual preferences are (and label it Guilty Pleasures or Secret Dreams). Even if we get adept at mirroring (and, to remind you, this is a normal thing that all humans do; it's part of how, for instance, small children figure out how to behave and how you figured out what was okay to wear to your last job, to that party, to a funeral, etc), one hopes that we'd still be aware of when we're doing that so that we know who we really are or want to be. For people who, on some level, sense that they are quite different and that mirroring is a very important part of how they survive in the world, would it start to become so habitual that they stopped really noticing when they weren't being themselves? And, if they noticed that they'd mirrored themselves into being someone that wasn't authentically them, would they be able to break the mirrors?
As I've mentioned, self-knowledge and authenticity are Very Important to me. As I wrote that bio, I was writing sentences that are about the part of me that I feel quite sure is really, truly me. Using words that feel true to my perception of that really, truly me. Which is why, in the end, I decided to risk it. To use those words and at least know that any judgement of me was based on authentic me (even if it might be a misunderstood idea of authentic me). Better to be hated for who I am than loved—or hated—for who I'm not. No need to smash mirrors there. Even if left entirely alone…nobody to see me or judge me….the things in that bio weren't me mirroring. At this point, I thought I had reached my destination….
Except that my brain was still turning this over for the life lessons, for the ways I could extend this to the other parts of who I am and what I do. Especially because I make rock music, and image definitely figures into that. Let's not kid ourselves. (Even Hendrix chose his bassist based entirely on liking the look of the guy. Unless I've misunderstood, Noel Redding had never played bass before.) So, even sitting there and telling myself I'd reached my destination, I knew I hadn't. There was a bigger place down the path…
Fortunately, Stone Four fell in front of me; I didn't have to go looking for it. Love it when that happens.
Just in case you didn't actually read the essay (in which case, shame on you!), here's the important bit from that for me: The rockstar in the film was being what he thought he needed to be to create the image that would sell records. He was unhappy and destined for failure. The reporter in the film moved closer to true fulfilment as he realised and lived closer to his true self (which was something like the image that the rockstar was trying to pretend to be). That same basic persona was heaven for one and hell for the other.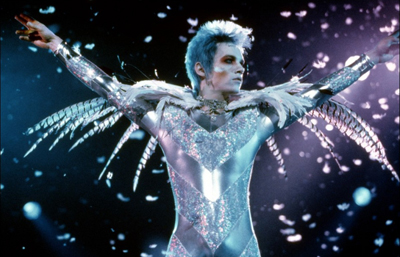 That this is the persona in question doesn't hurt my interest
I stood on Stone Four a few hours (to be fair, I went about my day but let it rest in the back of my head…I don't have the luxury of just standing around and pondering for hours). I didn't initially realise that this was a stone on the path. And then…one of those epiphanies that feels kind of obvious…so, if this is obvious to you, be kind. I'm sure I've out-figured you somewhere…ha!
Destination/Epiphany/Decision: The best image to work on is one built on your idea of who your idealised self is. (This does not apply if you're pursuing goals in life that don't actually reflect your true heart. Also, if that's the case, even my non-ideal self is sad for you and wishes you happier destinations. Anyway….)
This is something most of us already kind of do. We set New Year's Resolutions based on who that best person is we think we can be. We show our best business or people-person face when we go to a job interview. We put on our best selves when we meet new people (and when it's a false best self, we watch relationships crumble…so be extra careful with this one). Even those who try not to do this probably have certain bad habits or less-awesome behaviours that you'll never see unless you live with them.
Me? I have patience issues….
Here's the thing….If you're working on being your idealised self, you're working on behaving the way you want to behave. Even if this doesn't make people crazy about you the way you'd like, you'll be loved—or hated—for who you truly are. You'll have built desired behaviours and characteristics, because a lot of who we are is built on the habit of how we behave or think about ourselves. You win. And if it just so happens that your idealised self is the image that also speaks to others in a way that moves your art or cause ahead or that gains you awesome friends, at least the effort you're putting into upholding your image (to keep that movement or those people) will also be effort put into being the person you most want to be. Again, you win. (Also, if you decide that you were wrong about who you thought your best self is, you got there authentically and you can then change your efforts—authentically—towards that new idea of who your ideal self is.)
I'm a massive geek. Part of that, since I was 3 years old, has been role playing games. You make a character sheet that describes who your character is and then you sit at a table or run around a room and you pretend to be that person. For me, one of the main tactics in deciding the concept for my character (that kernel of an idea about who she is that I'd then flesh out into someone I could pretend to be as I slew dragons or vampires or whatever the game master threw my way) has been choosing a part of who I am or who I wish I were and turning it up a little bit. Often, I'd choose one trait or one issue and build around that. But the characters that were the most enjoyable to play for a long time, regardless of other players and the game masters, were those that were built to be an amplified form of whatever my idealised version of self was at the time. This was also kind of cool in that I got to learn some lessons about which traits I thought I wanted but really didn't enjoy having. Some pieces of the picture I had of my ideal self have survived since I was 3 years old; some have disappeared and been replaced.
Lasting part of ideal self: no restraint with sparkly things on my face
(Note: I've always been what has seemed authentically me to me. But, with this new place I've reached, I've now given myself permission in advance to never pretend I'm something other than the person I am or am trying to be. The issue of image is laid to rest. It's now an issue of "who do I think the best me is?")
So whilst I will never be as perfect at some (many?) things as I'd like, this is how I play the game now. Except that we're not talking about a game. We're talking about the thing that finally motivates me to throw myself entirely into trying to be my idealised self. Because I look at the life I want…I see that door I want to kick down, to shine out the best of who I am in song and in word, and I realise that the best way to shine out that best is to try to be my idealised self. She's not perfect; she won't please or appeal to everyone. But, when you love me, you'll love actual me. And, if you hate me, you'll hate actual me (and never have to second guess yourself…it's okay…go find another someone to give the time to…it's truly a shinier path for us all).
And, when I kick that door down, I won't wear myself out trying to maintain an image that I hate. It's a freedom it seems many people, in and out of the public eye, would bask in. Me? I'm going to shine and I'm going to bask. Join me?