MAJOR MUTE SPOILERS!!!!
I'm going to assume you've seen the latest Duncan Jones film, Mute. I am very likely going to say who did what and to whom, so there will definitely be spoilers.
I ought also to mention the following:
I went into this film expecting to like it because, to this point, I've liked everything that Jones has done. Enough so that, in a dream world where my books are made into films, he's the top director on my list at the moment.
I can't speak to Jones's authorial intent. As an artist, I both think authorial (or, more generally, artist) intent matters, but also…Once you put your thing out into the world, you must assume people will see it without reading introductions or listening to director's commentary or anything else. And so, as I opine, I'm basing this purely on what my experience was as a watcher.
I love this film.
I'm doing this in a blog instead of a tweet storm because Twitter is an ugly place and I didn't get my degree in Philosophy just to have trolls call it a "discussion" when they fling their excrement at me.
Got it? Right, then let's talk about my response to one critic who implied that, perhaps, Jones has dealt with paedophilia in a way that doesn't adequately display that it's A Bad Thing. And, to do that, I'm going to talk about the bad guys.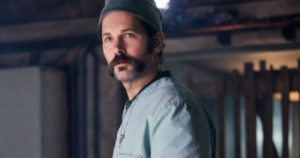 Cactus Bill is a bad guy. We might go in a bit unsure about that. After all, at least from the image we get of Paul Rudd in social media, the actor is a good guy. We kind of expect that he'll either be full on good guy or that he'll be a screw up who turns it around because he's actually got a good heart. Plus, look at how much he loves his kid. For most the film, it looks like he's just a dad trying to get him and his kid a good life. Sweet, right? And it's even kind of understandable that, as his country of origin goes into yet another war, he's fleeing that for said good life. We know, from other films, that he could well be someone who turns out to just be a brash loudmouth, someone who's part of the solution.
So, maybe we spend most the film thinking that Cactus Bill is a rough but possibly okay character. He may well work out. Save Leo and Naadi and also get him and his kid a nice life. Yay!
And it's even easier to think this might be what's going to happen, because Jones carefully and subtly lays a trail that suggests maybe Duck is our real bad guy. Though, again, it's a slow build. He's an adoring "uncle" to Cactus Bill's kid. He's played by a handsome actor, and we all know that people have a hard time accepting that characters played by handsome men can be really and truly bad. He seems to be a supportive and good friend to our "maybe going to show his smooshy core" other bad guy, Cactus Bill. His focus is building cyber limbs and implants for kids. Really, until we get quite a bit into the film, we're probably only looking at other characters as we try to work out who's behind Naadi disappearing.
But the veneer cracks a little in the bowling alley scene. What got me most about this scene was how played out and normal it was for some macho guy to have no shame voicing his schoolgirl fetish. (Same thing when he mentions it again later in the massage parlour.) Ugh. So, maybe Duck's a jerk, but he's a "normal" kind of jerk and, really, it seems like Cactus Bill is probably the one of the two friends most likely to help our protagonist anyway.
I can't, as I said, speak to authorial intent, but my reaction to that is to note that maybe, once we get the full story on Duck, we should start being less tolerant of the schoolgirl fetish the normal jerks in our lives have. You've heard similar things about all facets of rape culture: stop treating this behaviour as a joke, as okay, because you don't know when your mate who's saying sexual things about under-age girls is going to take your lack of reply as condoning his despicable actions. To me, this scene, especially in retrospect, is giving that warning.
Cactus Bill, again adding to his "good guy waiting to happen" tally, doesn't just let Duck get away with it. Right? Well, kind of. In actuality, like so many men in the sexual assault/consent arguments, he just lets it go…Until his own female family member is brought into it. To me, this was when I started to definitely not like both men. Duck has a tiresome thing for under-age girls (and, at this point, we don't know that it's worse than tiresome) and Cactus Bill isn't worried about the dignity/consent of all women, just his daughter. Ugh.
Still, to the viewer who spends less time being mad about topics this connected to for me, this probably just subtly reads as "hey, guys, Duck might not be entirely awesome." Jones is keeping this a mystery still.
Now, fast forward to the night Cactus Bill learns that his friend is a paedophile. Where, if you didn't before, you start to feel gross about Duck cuddling the daughter or filming the gate of the under-dressed little girl on his treadmill. You maybe wonder why he was putting his shirt on at the start of that scene whilst an unexplained little boy hovers in the background. And, yes, Cactus Bill storms in to confront him. Go, Bill! Start showing us you're on the good guys' side!
Except, and this is where you should start to question Bill, he doesn't say, "You need to stop and you need to pay." No, he's satisfied if Duck just promises to stop. You know, just lets him get away with it (like all those people in power in the world who let fellow people in power get away with sexual assault). But they're interrupted, and Jones pulls us off the trail for a moment. Even gives us a scene where Duck makes a comment that lets us know that he knows Naadirah and that he's pretty sure she's gone for good.
Could it be that Duck is the bad guy and we get to keep being fond of lovable Paul Rudd and Moustache? Indisputably, one hopes, he is a bad guy, given he's a paedophile (and paedophilia is absolutely despicable). But he might also be the bad guy in Leo's story.
Even when we eventually learn that it's really Cactus Bill who's taken and murdered Naadirah, Duck's paedophilia continues to be part of what is bad and menacing in the film. Part of why Duck is bad. Pretty clear statement, Msr. Le Critic.
So I can only guess that the reviewer's objection to the handling of paedophilia is based on how Cactus Bill reacted (or under-reacted) to it. But, here's the thing, Cactus Bill is a bad guy. He is, in terms of the story at the focus of the film, the bad guy. He's a murderer, possibly a kidnapper (you better believe Naadirah didn't just let him have their daughter and that she's trying to get money in order to get and keep her daughter), and he's just letting paedophilia happen. His lack of action isn't Jones condoning paedophilia or saying it's not that big a deal. His lack of action is part of how we know he's bad. Bad People Under-React to Bad Things seems unambiguous to me.
Sure, I'd like to have seen Duck be destroyed because of his paedophilia, not just because he had the poor sense to go after Leo. But the fact that his death didn't come due to the paedophilia isn't the same as Jones failing to treat paedophilia like a Very Bad Thing.
And that's my 1400+ words just to tell a critic that, in this way and others, they were wrong about Mute. I thought it was a nuanced, engaging, well-acted film. I loved the world building (and not just because I need a Free the 156 shirt!) and the soundtrack. I enjoyed not just what, to my biased eyes, it had to say about things I covered here, but also what it had to say about communication and those without voices. I seem to recall a tweet about how Jones had to trim hours from his ideal version, and I very much want those hours added back in. Mute might not have been for everyone, as Jones warned us for months, but it was for me.